As a forager I am always looking for new foods in everyday plants.  It came to my mind recently that Eating Cordyline australis, (Cabbage palm, Torbay palm), might not be such a strange thing to do.
Cordyline or the Cabbage palm is a common garden plant originating from New Zealand. It can be found far from it's native land growing in the South of England in municipal beds and the occasional garden. Some love it, some hate it. Having spent a bit of time living in Devon I grew to love this plant. It grew right across Torbay in the parks and gardens of Torquay and Paignton. There was a certain snobbery from more inland Totnesians for it's down at heal neighbours in the English Riviera along with some of it's plants, including this one. However, growing up in landlocked Northampton and not experiencing foreign holidays the palm was a symbol of the closest we would get to the exotic – the English coastline!
The exiting thing about the Torbay palm is it has an edible heart, a bit like an globe artichoke. The cordyline 'heart' consists of the growing tip at the base of the apical leaves. If you cut this off and then remove the leaves you are left with the heart, it should be about an inch or two long and be white tinged with a little green. I found it too bitter to eat raw so cooked it in three changes of water and then roasted it with some spices – see recipe below.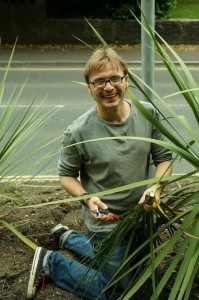 Gathering cordyline hearts
Finding the hearts of cordylines can be a tricky business. Cutting down those growing in city parks and in municipal planting schemes is considered criminal damage and you can be prosecuted. However, gardeners are always getting rid of them and may be willing to give you a couple of growing tips. Alternatively look on the the compost heaps of large gardens as you may find one or two. If you have one in your garden they will grow back from the base when cut down, this is best down in the spring. Cutting down this way should encourage a multi-stemmed plant so you can have one to replace your plant and the rest to eat!
Roasted cordyline hearts.
Method
Cut off the growing tip of the Cordyline.
Cut back the leaves and remove the heart
Boil the heart in three changes of water to remove some of the bitterness
Coat in oil, dip in spices and roast in a hot oven
Remove when browned and serve as a side dish