At Christmas there is an inordinate amount of pressure on us to buy things we don't need with money we haven't got.   Relatives and friends seem to pop up out of the woodwork and rather than be thankful we can bemoan gifts as they will need to be reciprocated.
The temptation is to buy cheap crap which may never even come out of its packaging, just so they have something to open on Christmas morning.   Landfill sites are full of such gifts yet, with a little thought the cycle of crappy present to bin can be avoided.
Eco-Gifts
Don't buy – Cheap plastic gimmicky solar powered or wind-up gifts.  A good example is a cheap plastic wind up radio or a solar phone charger.   I had a solar phone charger a few years ago and it wouldn't even charge in the midday Moroccan sun.  Unless they have improved wind-up phone chargers are a similar poor investment.
Do buy –
Gift vouchers for wild food walks. Andy has arranged a number of wild food walks in the new year ranging in price from £5-£35 gift vouchers are available.  They will take place in Bristol, Bath, London in the first half of the year.  He also hopes to run some in Glasgow and Edinburgh in the second part of the year. Email Andy Hamilton – or call 0117 9540788 during office hours (not weekends) for more details.   To book online or for other gift ideas visit LILI
Oxfam ethical gifts. Oxfam have been doing this for a few years now. You can buy all manner of life saving or life enhancing gifts for those in developing countries from a goat to clean water and health check ups. Not so good for the Clarkson/Daily Mail reading relative but other may appreciate this altruistic act.
As a garden I have to really include some horticultural do's and don't in the world of Christmas present buying.
DON'T BUY
Cheap tools – They bend, break and snap the second they are put under pressure.  If a tool is normally £10-£25 then a £1-£5 version is not a bargain but a cheap aluminium or cheap plastic toy, destined to be discarded before the following Christmas.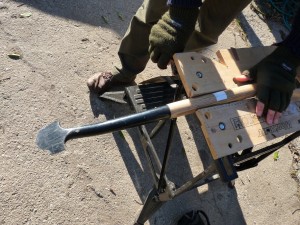 Plastic propagation shelving – My personal pet hate! The zips break, the plastic sheeting shrinks or tears and in some cases the plastic shelf brackets shatter in cold weather.  If you have one, pack it away as soon as you are done with it. Leave it out for only 2-3 months of the year maximum – that way you might have a chance of it lasting more than one growing season.
DO BUY
Seeds – Gardeners will be much more thankful of £5 worth of seeds rather than a tool which will break overnight.  Go for organic seeds and open pollinated varieties (not F1) as if they wish they will be able to save the seed.
Quality hand tools – A good quality hand fork or trowel will last years.  Look for ones with a long guarantee.
Christmas
Christmas is based on much older pagan festival where the emphasis was on eating too much and drinking too much and NOT about the giving and receiving of gifts. This Christmas why not go back to the true spirit of the time, get really drunk and eat so much you can't move!